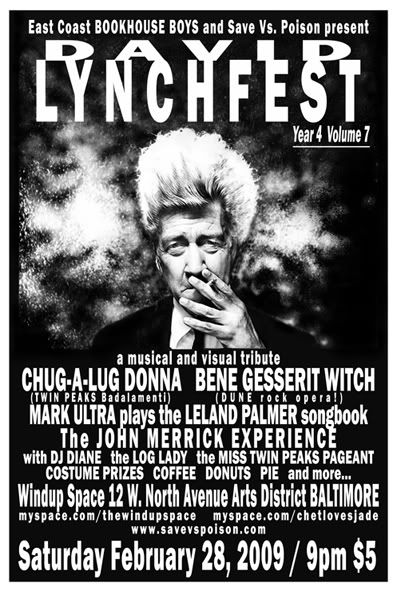 -
EAST COAST BOOKHOUSE BOYS and SAVE Vs. POISON present

David Lynchfest 'Year 4, Volume 7
February 28, 2009
SHOW 9:00pm / DOORS 8:00pm, $5
The WINDUP SPACE 12 W. North Avenue Arts District, Baltimore, Maryland
A musical and visual tribute to the films of David Lynch and the TV show Twin Peaks.
Featuring four especially themed musical acts celebrating his madcap soundtracks.
CHUG-A-LUG DONNA
- Our headlining act this year is a Twin Peaks/ Angelo Badalamenti cover band/ super group that will evoke the owls and bring out your inner BOB with their stirring, haunting, tribute to quite possibly the best TV soundtrack ever! Have your coffee and donuts ready. The Black Lodge will never be the same again.
BENE GESSERIT WITCH
- An epic Science Fiction band from Arrakis, Maryland dedicated to performing a Rock Opera based upon Frank Herbert's even more epic novel, DUNE, and inspired heavily by David's mega epic film of the same name (DUNE) as the sprawling, vast, 500 plus page, two-and-a-half-hour plus Director's Cut / Alan Sythee tale is told with songs, costumes, prop comedy and video projections. Fold space to be there! Do not miss!
www.myspace.com/benegesseritwitch
MARK ULTRA PLAYS THE LELAND PALMER SONGBOOK
- Mairzey dotes, Doesey dotes! Break out your saddle shoes and hit the dance floor at the Great Northern for this unique instrumental tribute to everybody's favorite split-personality Father!
The JOHN MERRICK EXPERIENCE
- A progressive rock Elephant jam freak show.
DJ DIANE
- All hits. No misses.
Also featuring
The Miss Twin Peaks Pageant- A trivia showdown for the crown.
The Log Lady!
Coffee, pie, donuts!
COSTUME PRIZES
Special Video projections throughout the evening by the BOOKHOUSE BOYS AV CLUB.
and more!
DETAILS
OFFICIAL SITE
http://www.myspace.com/chetlovesjade
Sponsor site
http://www.savevspoison.com
WINDUP SPACE - 12 W. North Ave Arts District, Baltimore, Maryland
Bands
12:30 ' 1:00 ' DJ DIANE
12:00 - 12:30 - CHUG-A-LUG DONNA ' Badalamenti tribute
11:30 ' 11:50 - Log Lady / Miss Twin Peaks Pageant
10:30 ' 11:20 ' BENE GESSERIT WITCH ' DUNE: the Spice Opera
10:00 ' 10:20 - MARK ULTRA PLAYS THE LELAND PALMER SONGBOOK
9:00 ' 9:50 ' THE JOHN MERRICK EXPERIENCE
8:00 ' DOORS OPEN / DJ DIANE