Just wanted to give you a quick heads up that Peepshow Menagerie is doing our second annual Burlesque Tribute to David Lynch. Here's the official show description:
THURSDAY, SEPTEMBER 16th, 2010
PEEPSHOW MENAGERIE presents BENEATH THE SURFACE
The 2nd annual burlesque tribute to the films and art of director David Lynch featuring burlesque based on all of David Lynch's films from:
SCARLETT LETTER
(Legends Award / Best Solo Performance - Boston Burlesque Expo 2010
& "Most Classic" - Boston Burlesque Expo 2007)
JONNY PORKPIE
(Boylesque/Author/Mayoral Candidate from NYC's Pinchbottom Burlesque)
CHARLOTTE LA BELLE ARAIGNE'E
ANNA BELLS
LAVENDAR LA RUE
RED SNAPPER
MISS JOSIE BUNNIE
MISS ANGIE CAKES
CAROLINA MOON
STEAK N. SHAKE
LA FILLE
EDEN DRAVEN
We are especially happy to announce that this year we are including a performance based on Lynch's latest short film/ad; "Lady Blue Shanghai"
with live musical guest:
MATHER LOUTH AND RADIO NOIR
hosted by Chris Beyond
produced by Scarlett Letter & Chris Beyond
sponsored by Bachelor Pad Magazine
Live at Bordello (formerly "Little Pedros")
Thursday, September 16th, 2010, Doors at 9pm
901 East First Street, Los Angeles, CA 90012
Admission: $12
Doors: 9pm / Music: 9:45 / Burlesque 10:15
Judging by the great turnout last year, this will be a packed show so please arrive early for best seating and viewing (We really do recommend 9pm). For more info as it comes, go to
http://peepshowmenagerie.com/
or search for "Peepshow Menagerie" on Facebook.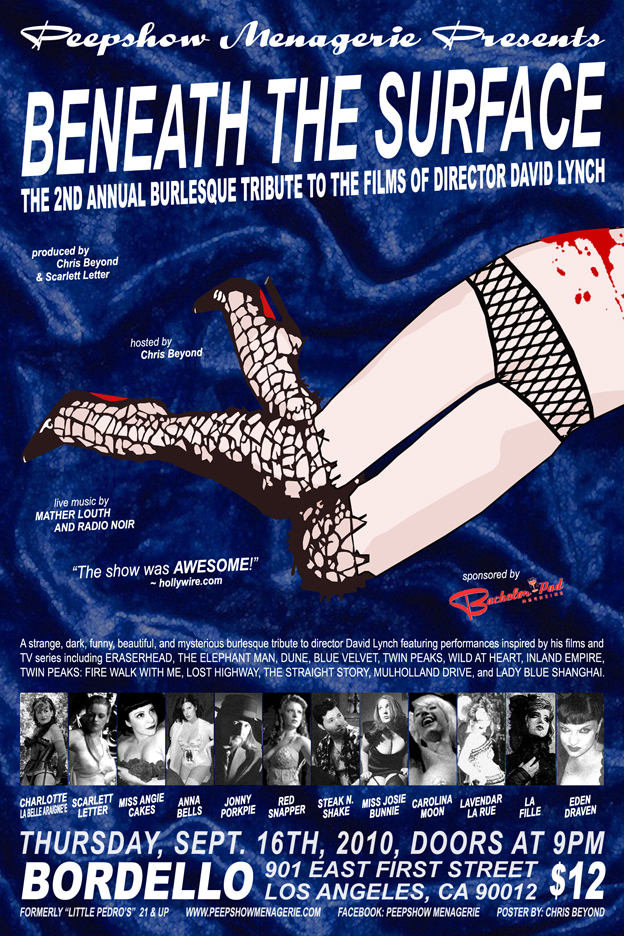 Here is our official show info and bio-page for this show:
http://www.peepshowmenagerie.com/0910show.htm
Here's our facebook profile:
http://www.facebook.com/pages/Peepshow-Menagerie/44966662778?ref=ts
and the official facebook invite:
http://www.facebook.com/event.php?eid=152756404750123&ref=ts
Hope to see you there! If all goes well, we may have door prizes for anyone who mentions "Dugpa" at the door.
~ Chris Beyond & Scarlett Letter
producers, peepshow menagerie
http://www.peepshowmenagerie.com