There are differences between the film and TV show that are, for some, quite egregious and distracting, and there are others that are less noticeable but remain interesting nonetheless.
Some differences between the two are ones that we would naturally chalk up to the passage of time, i.e., haircuts, such as Mike's, who grows a mullet between his brief appearance in FWWM and the Pilot (chronologically, a difference of seven days), much like Audrey Horne's folic do-over between the Pilot and episode 1 of the series proper (chronologically - overnight!) I thought it would be interesting to list all the disparities and apparent contradictions and perhaps provide either an explanation that works or we come to the realisation that mistakes, simply put, are made. Still, it would be fun to categorise and discuss them.
Here are two that pop into my mind:
I: Annie's dress:
When Annie enters and leaves the Lodge in the season 2 finale, she is wearing a black dress. When we cut to her arriving at the hospital in FWWM's Missing Pieces, her clothing has changed – she is wearing what seems to be Caroline Earle's chintzy outfit as seen briefly in the finale's Black Lodge. Here is Caroline's doppelganger wearing the dress: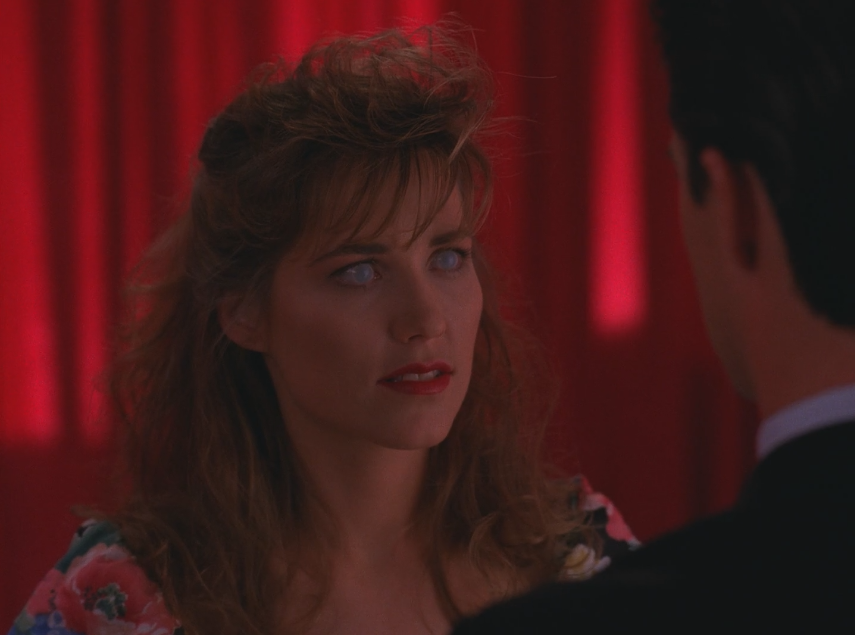 'Annie'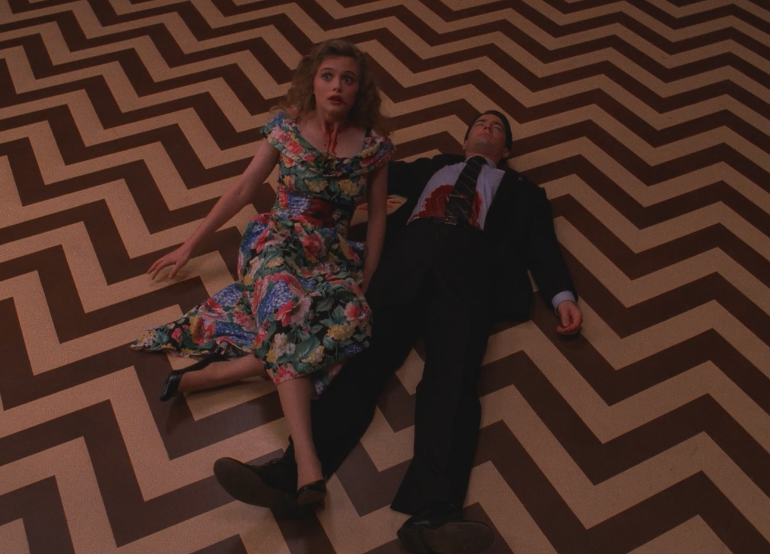 Annie upon leaving the Lodge and being found by Truman: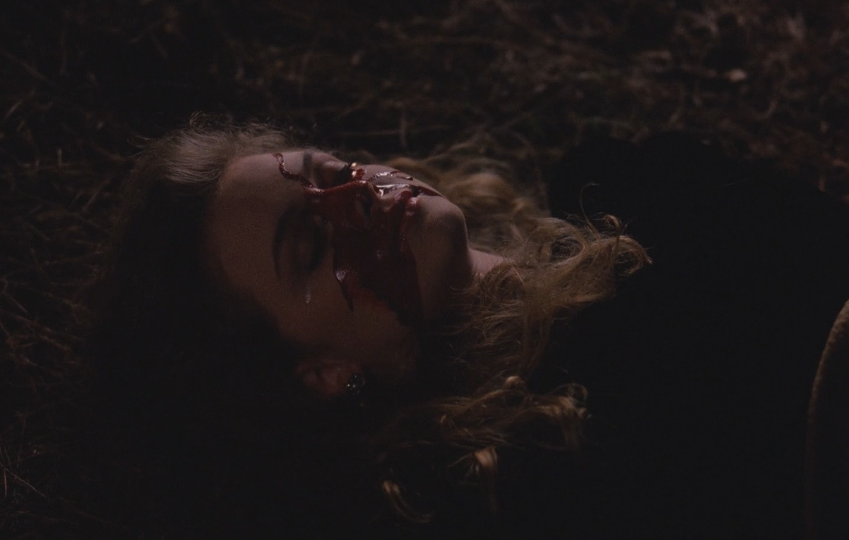 And yet, here's Annie in FWWM, being wheeled into hospital: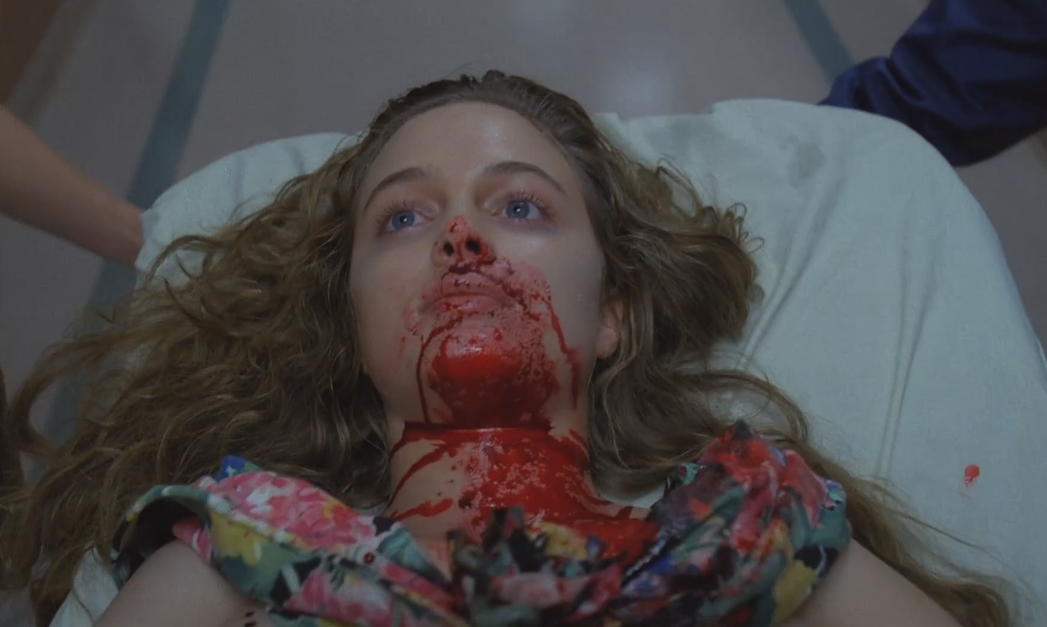 Explanation?
Is Lynch trying to hint that Annie also did not leave the Lodge, at least in whole? It may be serendipitous, but Annie's bloodsplatter in FWWM more closely aligns with that of the Caroline/Annie doppelganger. Still, neither the show nor the film allude to Cooper having any Earthly company within the Lodge: he seems trapped and alone, as the film shows, until we see him with Laura and the angel at the end.
II: MIKE'S knowledge of BOB's host:
Pretty self-explanatory problem, this one. In FWWM Mike conducts a séance (seen in the Missing Pieces) and tracks down Leland and Laura, where he tries to tell Laura that her father is Bob's host. He also appears at the scene of her murder and within the Lodge at the end, when Bob enters, leaves Leland's body, and extracts the garmonbozia. Throughout the first half of season 2, Cooper enlists Mike to find Bob's host, and it seems Mike has no idea where Bob is.
Explanation?
As I recall, in the show Philip Gerard suppressed Mike with the use of pharmaceuticals. This might have disorientated Mike; we see that he becomes weaker as Gerard's body dehydrates (according to Dr. Hayward) at the Great Northern Hotel in season 2. Perhaps the drugs have long lasting effects on either Mike or the connection to him (if Philip and the drugs are elaborated upon within the show, jig my memory!)
III: Tremond or Chalfont?
The old lady and her grandson are known as Tremond and then Chalfont in TP and FWWM respectively.
Explanation?:
This one is quite simple: these particular beings take their names from wherever they happen to manifest: in TP, Donna Hayward finds them at a Mrs. Tremond's apartment; later, it is revealed that the real Mrs Tremond is a different woman altogether with no relation to the people Donna met. Apparently the Lodge entities simply assumed her name. In FWWM, the two have been staying at the trailer park (to keep close to the '6' pylon, or Teresa? Maybe both) under the name Chalfont – a name that is revealed to have belonged to the previous occupant of the lot. Again, these two mysterious beings simply assumed the name of an occupant, previous or otherwise (maybe these Lodge beings are not very creative when coming up with names - I doubt Mike and Bob's identities are truly 'Mike' and 'Bob', Bob itself seemingly being derived from 'Robertson', an alleged neighbour of a young Leland Palmer.)
There are, no doubt, far more, but it would be fun to see what other members have noticed and reconciled (or not!) with the series and mythology at large.